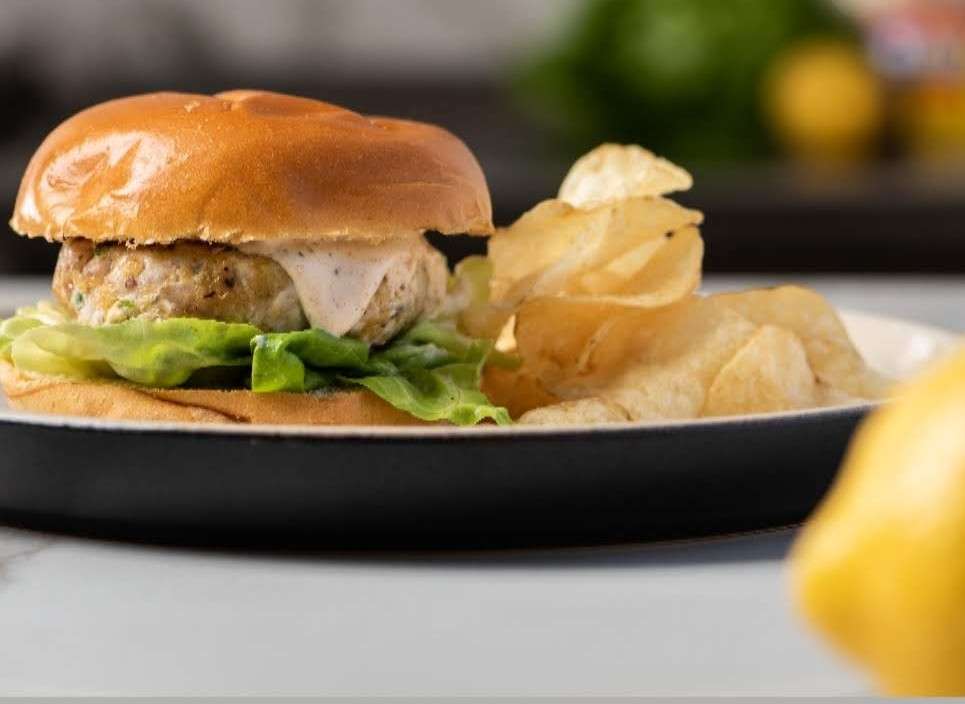 Imagine yourself by the sunny shores of San Diego, surrounded by the tantalizing aroma of a sizzling fish burger. Fish burgers are a delightful way to showcase the firm flesh of local fish like Shark, Wahoo, or Albacore. What exactly does firm flesh mean? Well, it refers to the meat that is not "flaky" when cooked. Often found in the tails of fish like tuna or other large oceanic fish, which tend to be tougher due to the well-worked tail muscles. Surprisingly, this often-overlooked meat can be transformed into a delectable burger when chopped into small pieces.
Let's dive into the recipe:
Serves: 4
For the Burgers, you'll need:
– 1 lb Yellowtail (amberjack) or other firm fish, with skins off, pin bones and bloodline removed
– 2 Green onions (whites and green parts), sliced thin
– 1 ½ tsp Lemon or lime zest
– ½ tsp Hot sauce (Tabasco, Crystal, or any vinegar-based hot sauce)
– ½ tsp Old Bay seasoning
– 1 Egg, beaten
– ½ cup Breadcrumbs (preferably panko)
– 2 tbsp High heat cooking oil (peanut oil, coconut oil, vegetable oil, etc.)*
– Kosher salt and pepper to taste
For the Old Bay Mayonnaise, you'll need:
– 4 tbsp Mayonnaise
– 1 tbsp Lemon juice
– 1 to 2 tsp Old Bay seasoning
Additional ingredients:
– 4 Hamburger buns, toasted
– 4 leaves of Butter leaf lettuce
Here's how to create these mouthwatering burgers:
1. Start by finely chopping the fish into small, 1/4-inch pieces.
2. In a bowl, gently combine the chopped fish, green onions, lemon or lime zest, hot sauce, Old Bay seasoning, beaten egg, and breadcrumbs. Mix them all together until well combined.
3. Form the mixture into four patties. To achieve perfectly shaped burgers that hold together, line a ring mold or biscuit cutter with plastic wrap, add enough fish mixture to create a 1½-inch-thick patty, and press firmly into the mold. Wrap the patties tightly with plastic wrap. Don't worry if you don't have a ring mold; simply use an ice cream scoop to form a ball, then lightly pat it into a 1½-inch-thick burger shape and wrap it tightly in plastic wrap.
4. Place the wrapped burgers in the refrigerator and let them chill for at least 1 hour or up to 24 hours. This will help the flavors meld and the burgers firm up.
5. While the burgers are chilling, let's prepare the Old Bay mayonnaise. In a small bowl, combine the mayonnaise, lemon juice, and one teaspoon of Old Bay seasoning. Stir everything together until well mixed. Taste and add more Old Bay seasoning if desired.
6. Once the burgers have chilled to allow the bread crumbs to bind the burger, and are ready to be cooked, remove them from the plastic wrap and lightly season both sides with salt and pepper.
7. In a non-stick skillet, heat one tablespoon of high-heat cooking oil over medium-high heat. Gently place the burgers in the skillet and let them cook until they turn crisp and golden brown, about 4 to 5 minutes. Carefully flip the burgers, adding more oil to the skillet if needed, and reduce the heat to medium. Continue cooking until the other side becomes golden brown as well, cooking for approximately 4 minutes or until the burgers are just cooked through (if after browning, the burgers are too thick and not cooked through, they can be placed into a 350 F oven and cooked until the center is no longer raw).
8. Now, it's time to assemble our irresistible burgers. Spread the Old Bay mayonnaise onto the toasted hamburger buns, then place a cooked burger patty on each bun. Top it off with a fresh leaf of butter lettuce.
Chef's tip: To prevent burning or smoking, choosing a high-heat oil for cooking the burgers is important. Great options include coconut oil, avocado oil, peanut oil, vegetable oil, or grapeseed oil.
And there you have it—a tantalizing Yellowtail Burger with Old Bay Mayonnaise that will transport your taste buds to culinary bliss!
For all the food enthusiasts in San Diego, whether you're looking for an unforgettable cooking class or a private dining experience, I'm here to offer my services as a personal chef. Join me for a culinary adventure that will delight your senses and leave you craving more. Book now, and let's embark on a gastronomic journey together!