VIRTUAL & IN PERSON CLASSES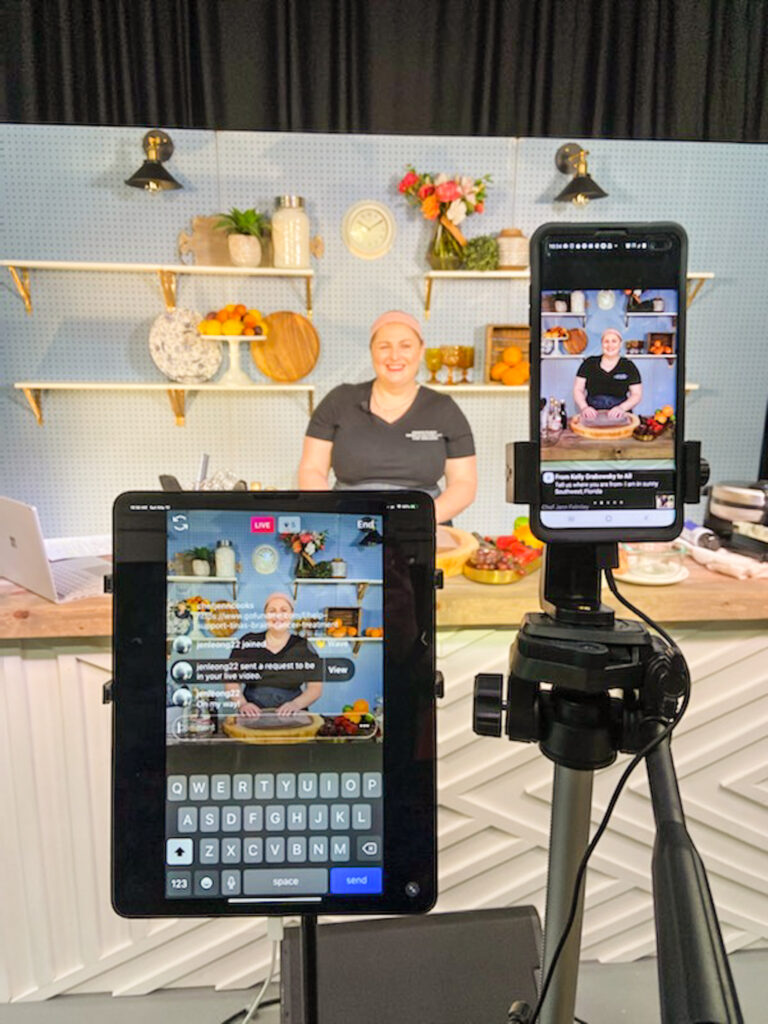 VIRTUAL COOKING CLASSES AND CONSULTATIONS
Enjoy an evening in the comfort of your home, cooking virtually!
Chef Jenn will help you with all your cooking and culinary cannabis questions. Along with creating virtual events, everyone can enjoy.
With years of experience, education, and excitement for food, Chef Jenn is more than qualified to help you with all your cooking questions. Classes can be hands-on, as well as demonstration or consultation, on making meals with what you have in your refrigerator to chop an onion or whatever cannabis cooking questions you have.
Highlights of a Virtual Event:
A virtual Chef live in your kitchen.
Ask questions of the chef and interact.
Learn the answers to those burning questions you've always wondered about.
Chef Jenn will send an email before your virtual meeting to ensure you get all your questions answered.
A one-on-one option for those beginners looking to learn to cook, you can cook with Chef Jenn or enjoy a live cooking show. Without leaving your kitchen!
In a private virtual class, you can customize your block of time from 30 minutes to two hours. 
Cooking class examples:
Knife Skills, how to cut an onion, how to dice a carrot, and more!
Basic Dumpling (how to make the dough, filling, and dipping sauce)
Pretty in Pink Sunday Brunch (Waffles- batter from scratch, Rosewater and Lime Fruit Salad, Fresh Whipped Cream, and a Pink Champagne Cocktail).
Custom, you can create the class of your dreams.
Chef Jenn offers fully customized hands-on and demonstration cooking classes. Please plan on a minimum of 2 weeks for planning your event.
Hands-on all-inclusive cooking class and dinner! Classes will give you all the cooking tips and tricks you need to cook like a chef; knife skills, kitchen safety, and lots of laughs. Chef Jenn will provide all food and some specialty equipment (additional equipment is available).
Personalized attention guarantees you will learn new cooking skills and get all your cooking questions answered.
Menu Example:
Summer Farmers Market Salad (this salad is based on what is in season) Kale Salad with Grilled Seasonal Fruit, Pepetitos, Queso Fresco with an Apple Cider Vinaigrette
Citrus and Herb Roasted Chicken with Pan Gravy
Strawberry Crisp with Whipped Cream
3 recipe, hands-on class is approximately 2 hours long
(please plan on additional time for dinning)
Chef Jenn will create custom recipes and a class designed to suit your needs.
Whether you want to learn all about San Diego's local farmers, fishermen, and ranchers. Or tours of local specialty markets and farmer's markets. Cuisines can range from classic French to Asian, and recipes can be Paleo, Gluten Free, Vegan, and more. If you can dream of a cooking class, she can create a cooking class for you.
Please fill out the FORM and let me know how I can best meet your culinary needs.
All-Inclusive Custom Cooking Classes. You receive a custom 3 -course cooking lesson. Includes recipes, cutting boards, knives, measuring cups, spoons, and specialty equipment needed. Along with all grocery shopping.
Plan on spending about 2 to 3 hours per cooking lesson (depending on what kind of food is prepared). Please plan on an hour or so to chat with your friends and eat all the unique new foods you'll create. Please plan on a minimum of 2 weeks for planning your event.
Since each service is unique, we will provide a quote once we establish preliminary details.